Full Electric Super Heavy Duty Bariatric Hospital Bed
This product is no longer available.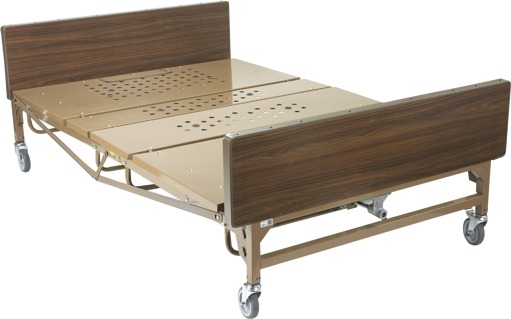 Manufacturer:
Drive Medical
This item is not currently available to order.

Description:
With quiet, smooth operation and a heavy-duty steel frame, this full electric bariatric bed from Drive Medical ensures you peaceful rest without skimping on strength and safety. The split-pan design allows the bed ends to be easily set-up without tools or removed when not in use. The 54" large sleep surface provides additional comfort compared to conventional hospital beds and is able to accommodate a weight capacity of 1,000 pounds. The easy to reach hand-control allows for multiple bed positioning able to maximize your comfort level. As a standard this bed comes equipped with an emergency manual crank.
Features and Benefits
Quiet, smooth operation
Heavy duty frame ensures strength and patient safety
All steel construction
Larger sleep surface than conventional bed
Split pan design with removable bed ends is easy to set-up
No tools necessary for set-up
Hand control (included) provides for multiple bed positioning for patients
Low air loss/alternating pressure mattress available
Emergency manual crank included

Product Specifications
Actual Product Weight: 338 lbs
Bed Height (Max): 20.625"
Bed Height (Min): 12.375"
Bed Height w/ Casters (Max): 26.625"
Bed Height w/ Casters (Min): 18.375"
Casters: 6"
Foot Section Height (Max): 38.375"
Foot Section Height (Min): 29.875"
Foot Section Height w/ Casters (Max): 41.875"
Foot Section Height w/ Casters (Min): 35.875"
Footboard Height (Max): 31"
Footboard Height (Min): 22.75"
Footboard Height w/ Casters (Max): 37"
Footboard Height w/ Casters (Min): 28.75"
Ground Clearance: 11.625"-19.875"
Ground Clearance w/ Casters: 17.625"-23.625"
Head Section Height (Max): 43.75"
Head Section Height (Min): 35.25"
Head Section Height w/ Casters (Max): 49.75"
Head Section Height w/ Casters (Min): 41.25"
Headboard Height (Max): 33.25"
Headboard Height (Min): 25"
Headboard Height w/ Casters (Max): 39.25"
Headboard Height w/ Casters (Min): 31"
Motor: 15302MHN (Head)
15300MF (Foot)
15302HL (Hi/Low)
Overall Product Height: 25"
Overall Product Length: 94"
Overall Product Width: 54.5"
Primary Product Color: Brown
Primary Product Material: Steel
Product Weight Capacity: 1000 lbs
Product Weight Capacity: 1000 lbs
Warranty: Limited Lifetime on Welds; 5 Year Limited on Frame; 1 Year Limited on all Other Parts and Components
Model # 15303, 15303bv-1hr, 15303bv-pkg