Winnie Wagon All Purpose Shopping Utility Cart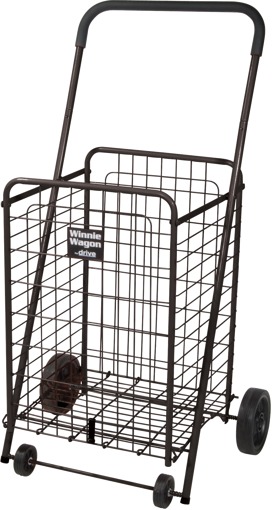 Manufacturer:
Drive Medical
Ships Direct From Manufacturer

Description:
Can Make Every Outing Care Free and Convenient Drive Medical's Black Winnie Wagon All Purpose Shopping Utility Cart, is commonly referred to as the handy little travel companion that could. This sturdy and robust, yet light weight and easy to handle carrying cart has been designed for a wide variety of tasks that help promote increased mobility, independence and good health. This makes it an aid that can help transform any and all of your outside excursions, whether for business or pleasure, into trips that are convenient, stress free and easy to manage.Developed with your needs squarely in mind, the Winnie Wagon All Purpose Shopping Utility Cart makes it easier for you to transport your groceries, laundry and other personal items from one location to the next, giving you a measure of independence and confidence that might not otherwise be available to you.If that wasn't enough, the Winnie Wagon also folds up easily, making storage simple and easy. At the end of the day, this handy little helper is a companion you won't want to leave home without. Available in Red or Black. Go ahead...Experience the Drive Difference Now!
Features and Benefits
Sturdy, all-purpose cart makes it easy to transport groceries, laundry and personal items
Manufactured with lightweight, durable steel
Large rubber casters provide for a smooth transport over most surfaces
Easily folds for convenient storage and transport

Product Specifications
Actual Product Weight: 9.4 lbs
Basket Height: 20.25"
Basket Length: 13.25"
Basket Width: 14.25"
Folded Basket Height: 41.1"
Folded Basket Length: 5.5"
Folded Basket Width: 20.1"
Handle Height (Max): 38"
Handle Height (Min): 36"
Overall Product Height: 36"
Overall Product Length: 13.25"
Overall Product Width: 14.75"
Primary Product Material: Steel
Product Weight Capacity: 50 lbs
Product Weight Capacity: 50 lbs
Warranty: Limited Lifetime
Model # 605b, 605r
View Assembly Video - 605b
View Assembly Video - 605r