Lifestyle Padded Transfer Belt
This product is no longer available.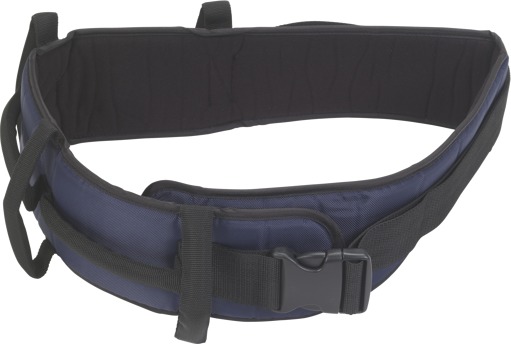 Manufacturer:
Drive Medical
This item is not currently available to order.

Description:
Caregivers who need help with lifting and transferring patients can find helpful assistance with a Padded Transfer Belt from Drive Medical. When the patient wears this comfortable and durable belt, it provides convenient vertical and horizontal handholds to help lift and guide them when getting up, sitting down or transferring to or from a wheelchair, bed, vehicle or toilet. It also allows the caregiver to offer assistance with patient while walking. And the using the belt is much easier on the caregiver's back. Comes in sizes Small, Medium, and Large.
Features and Benefits
Helpful for assisting individuals with getting up and sitting down providing support when walking
Ideal for transferring an individual between a wheelchair and bed, car, or toilet
Vertical and horizontal loop handles are safe and easy to grip
The side-release plastic buckle allows easy on and off tension adjusting and retightening as needed
Outer fabric is nylon and the inner surface is lined for comfort and breathability
Comes in sizes Small, Medium, and Large

Product Specifications
Actual Product Weight: 1 lbs
Overall Product Height: 0.5", 2.75"(rtl6145),, 0.5"(rtl6146)
Overall Product Length: 30", 47"(rtl6145),, 63"(rtl6146)
Overall Product Width: 2.5"(rtl6144, rtl6146), 5"(rtl6145)
Primary Product Color: Navy Blue
Primary Product Material: Nylon
Warranty: 6 Month Limited
Model # rtl6144, rtl6145, rtl6146