Scooter Accessory Kit
This product is no longer available.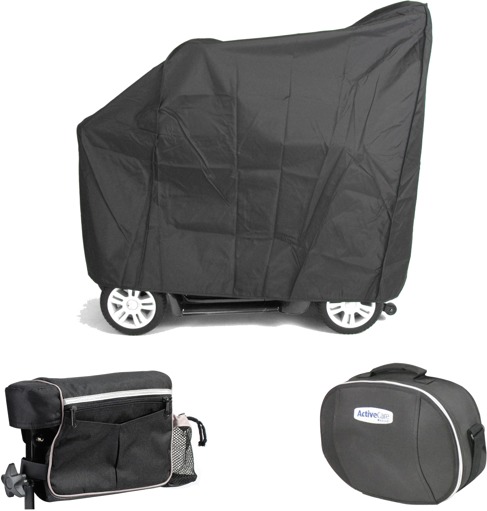 Manufacturer:
Drive Medical
Category:
Wheelchair Accessories
This item is not currently available to order.

Description:
Add convenience and functionality to your mobility scooter with the useful items included in the Scooter Accessory Kit. Your mobility scooter is a fantastic tool for keeping up with your busy, active lifestyle. But you've probably noticed that carrying items with you when you're out with your device can be a hassle. Whether you're on the go with your phone, your glasses, a laptop computer, a book, or more, the Armrest and Oval Bags included in the kit attach easily and securely to your scooter, placing everything conveniently within reach when you need it. And the Scooter Cover protects your scooter from the elements, great for keeping it dry and dust free.
Features and Benefits
Armrest bag includes four pockets and mesh drink holder
Top of the armrest bag is padded so resting your arm on it is even more comfortable
Oval Bag is sturdy and hard-sided to provide safe storage for your items
Oval Bag can be unzipped to expand for even more packing space
Scooter Cover protects your scooter from the elements
Cover made of durable, easy to clean nylon

Product Specifications
Actual Product Weight: 3.5 lbs
Overall Product Height: 7"
Overall Product Length: 14"
Overall Product Width: 11.5"
Primary Product Color: Black
Primary Product Material: Canvas and Nylon
Warranty: N/A
Model # acckit-l, acckit-m, acckit-xl