Titanium Gel/Foam Wheelchair Cushion
This product is no longer available.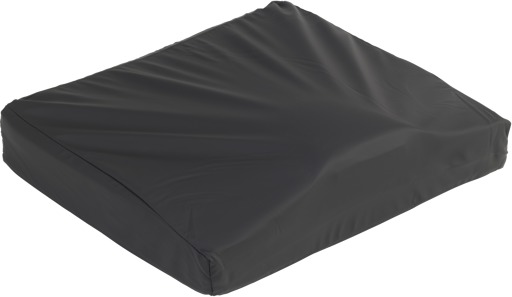 Manufacturer:
Drive Medical
Category:
Wheelchair Accessories
This item is not currently available to order.

Description:
For enhanced wheelchair seating comfort, look to the superior therapeutic pressure redistribution, skin protection, and positioning offered by the Titanium Gel/Foam cushion from Drive DeVilbiss. The Titanium cushion's combination of resilient, high density foam and a central dual chambered gel bladder allows for user immersion and encourages proper seating posture. Each Titanium cushion also features a medium contour for leg abduction and additional positioning assistance. The cover material is a fluid-resistant, low-shear stretch providing comfort and protection for the user's skin. Take comfort in knowing the non-skid cushion bottom prevents slipping and provides added stability. We provide users the ability to achieve postural support and proper pelvic positioning without compromising skin integrity. When the goal is enhanced comfort, pressure redistribution, pain relief and/or pressure ulcer prevention, Drive's Titanium Gel/Foam cushions is the solution.
Features and Benefits
Resilient foam layer combined with a dual chamber gel bladder allow for immersion, enhanced comfort plus ischial and coccyx pressure relief
Medium contour to gently abduct and properly supports the greater trochanters
The dense foam base provides support and stability for proper pelvic alignment
Cushion cover is a low shear, fluid resistant, stretch material which serves to protect the patient's skin tissue and provide added comfort
Non-skid cushion bottom offers additional stability

Product Specifications
Cover Material: Fluid Resistant Stretch Top, Non Skid Bottom
Overall Product Height: 3.5"
Primary Product Color: Black
Primary Product Material: Foam
Product Weight Capacity: 275 lbs(fpt-1, fpt-2, fpt-3), 500 lbs(fpt-4, fpt-5, fpt-6, fpt-7, fpt-8)
Product Weight Capacity: 275 lbs
Warranty: 1 Year Limited
Model # fpt-1, fpt-1818, fpt-2, fpt-2018, fpt-4
View Product Informational Video - fpt-1
View Product Informational Video - fpt-2
View Product Informational Video - fpt-4