Balanced Aire Adjustable Cushion
This product is no longer available.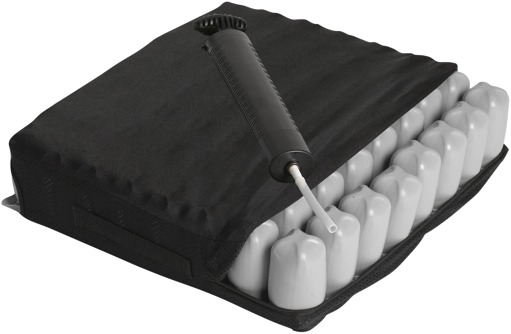 Manufacturer:
Drive Medical
Category:
Wheelchair Accessories
This item is not currently available to order.

Description:
The Balanced Aire Adjustable Cushion from Drive and Mason Medical is our premier pressure management cushion offering dynamic positioning, unmatched stability and an advanced level of pressure ulcer prevention. The flexible interconnected, independent air cells allow for deep immersion into the cushion providing optimal pressure redistribution to help increase blood flow necessary for healthy tissue maintenance. The water-resistant, low-shear stretch cover includes adjustable locking straps and non-skid bottom to secure cushion to the wheelchair. The included hand pump allows adjustment of the cushion to individual patient comfort. The Balanced Aire is available in 4" high profile and 2" low profile heights.
Features and Benefits
The Balanced Aire Adjustable Cushion is our premier pressure management cushion
Offering dynamic positioning, unmatched stability and an advanced level of pressure ulcer prevention
Flexible interconnected, independent air cells allow for deep immersion into the cushion
Optimal pressure redistribution helps increase blood flow necessary for healthy tissue maintenance
Water-resistant, low-shear stretch nylon Cover with adjustable locking straps and non-skid bottom to secure cushion to the wheelchair
Hand pump to adjust the cushions to individual patient comfort
Available in 4" high profile and 2" low profile heights

Product Specifications
Cover Material: Fluid Resistant Stretch Top, Non Skid Bottom
Primary Product Color: Black
Primary Product Material: Nylon
Product Weight Capacity: 300 lbs
Product Weight Capacity: 500 lbs
Warranty: 2 Year Limited
Model # 8047-16, 8047-16-2, 8047-18, 8047-18-2, 8047-20, 8047-20-2, 8047-2218-2, 8047-2220-2
View Product Informational Video