Timed Corded Patient Alarm Pad, Pack of 5
This product is no longer available.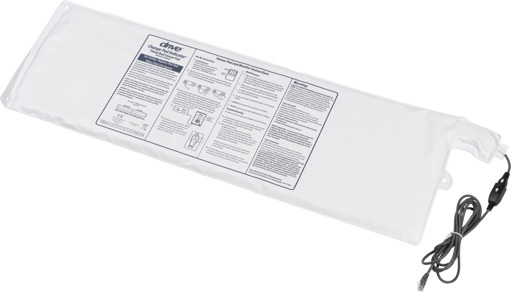 Manufacturer:
Drive Medical
Category:
Fall Prevention
Product Code:
tbed-sp10x30
This item is not currently available to order.

Description:
Corded Sensor Alarm Pads offer Caregivers an efficient method of receiving notification when a resident is getting out of a chair or bed. When the Sensor Pad is connected to a Fall Monitor Alarm, the pad will trigger the alarm when weight is removed from the pressure pad itself. These totally sealed and impervious to fluids weight-sensitive pressure pads are for Resident monitoring use with Drive DeVilbiss Healthcare PrimeGuard Fall Monitor Alarms.
Features and Benefits
F-Tag compliant when used with timed pressure pads, automatically tracks the life of the sensor pad and alerts caregiver 10 days prior to pad expiration
Pad is placed under the resident while seated in the chair; the monitor will alarm when resident gets up and pressure is released from the pad (Monitor Required)
Unique coiled cord reduces tripping and entanglement hazards


Warranty: 1 Year Limited
Model # tbed-sp10x30, tch-sp10x15