Gravity 8 Long Term Care Pressure Redistribution Mattress
This product is no longer available.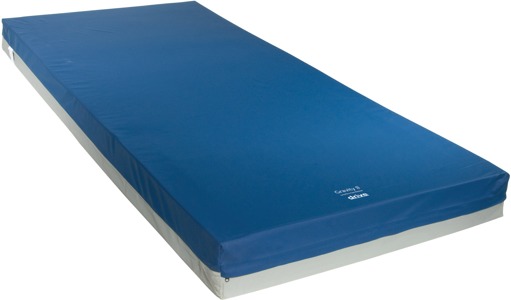 Manufacturer:
Drive Medical
Category:
Foam / Pressure Prevention
This item is not currently available to order.

Description:
The Gravity 8 Pressure Redistribution Mattress by Drive Medical has a multi-layered foam system that provides outstanding zoned pressure distribution. This mattress provides additional protection against heel pressure ulcers. Heel comfort is maximized by a gently sloping heel section and channel cuts in the middle layer of foam under the foot section. The comfort of the Gravity 8 mattress is equally matched by its durability. The cover provides functionality and convenience, as it is not only easy to clean, but it is also fluid proof, tear resistant, fire retardant, and low sheer. With its comfort, convenience, and practicality, Drive Medical's Gravity 8 is the right choice for anyone in need of a pressure redistribution mattress.
Features and Benefits
Prevent heel pressure ulcers with the heel slope, channel cuts, and open-cell visco-elastic memory foam foot section
Outstanding combination of multi-layered die-cut and memory foam available with or without raised side rails
Top layer uses unique die-cutting and a true memory foam heel section to optimized zoned pressure redistribution
Bottom layer provides full length horizontally scored articulation cuts extending the durability and life of the mattress significantly
Cover is fire retardant, fluid proof, tear resistant, low sheer and easy to clean
Mattress includes a 6" to 5" heel slope and a "channel cut" center layer of foam under the foot section to target heel ulcer prevention

Product Specifications
Cover Material: Fluid Resistant Nylon Top, Waterproof Vinyl Bottom
Dedicated Heel Section: Yes
Fire Rating: CFR 16 Part 1633
Layers of Foam: 3
Primary Product Color: Blue
Primary Product Material: Foam
Product Weight Capacity: 350 lbs
Product Weight Capacity: 350 lbs
Warranty: 10 Year Limited on Foam; 1 Year Limited on Cover
Model # 15870, 15884, 15885, 15886, 15888