Multi-Ply Dynamic Elite Foam Pressure Redistribution Mattress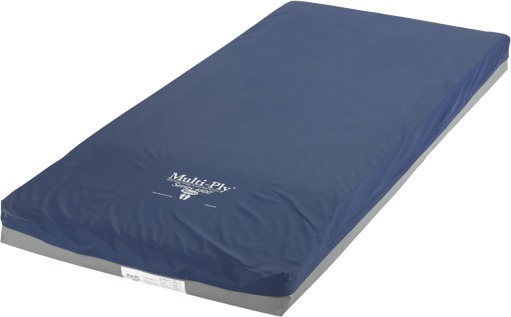 Manufacturer:
Drive Medical
Product Code:
6500-de-2-fb
Ships Direct From Manufacturer

Description:
Ultra-soft Multi-Ply Mattresses from Drive and Mason Medical are excellent options for simple pressure redistribution. The mattresses are composed of multiple layers of comfortable high density foam and are separated into zones that provide customized support for different parts of the patient's body. The Multi-Ply Dynamic Elite features gel-infused foam to channel heat away from the body much faster than standard foam. The heel area features our patented Lura-Quilt foam which allows air to continuously pass through, reducing heat buildup and a 25 degree slope.
Features and Benefits
Gel-infused foam channels heat away from the body significantly faster than standard foam, keeping skin dry to minimize maceration
Superior pressure redistribution achieved by providing more support and less cradling at higher levels of compression, distributing pressure over a much larger surface area and eliminating static fatigue
Protects vulnerable heel area with the patented Lura-Quilt foam and a 25 degree heel slope redistributing pressure tithe entire leg and away from the heel
15 year non-prorated warranty

Product Specifications
Cover Material: Fluid Resistant Nylon Top, Waterproof Vinyl Bottom
Dedicated Heel Section: Yes
Fire Rating: CFR 16 Part 1633
Layers of Foam: 4
Primary Product Color: Blue
Primary Product Material: Foam
Product Weight Capacity: 400 lbs
Product Weight Capacity: 400 lbs
Warranty: 15 Year Limited on Foam; 1 Year Limited on Cover
Model # 6500-de-1-fb, 6500-de-2-fb, 6500-de-2-rr-fb, 6500-de-3-fb