ComfortFit Deluxe EZ Full Face CPAP Mask without Headgear
This product is no longer available.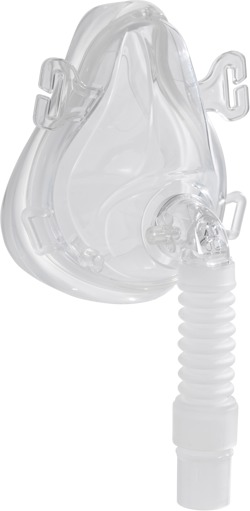 Manufacturer:
Drive Medical
This item is not currently available to order.

Description:
The ComfortFit EZ Full Face CPAP Mask Without Headgear from Drive Medical is designed to provide you with effective sleep therapy every night. With no clunky forehead pad, this mask allows you to perform tasks in bed such as reading and watching television without the mask getting in your way or blocking your view. No forehead pad also means that this mask fits more comfortably allowing you to sleep throughout the night. The mask easily attaches to your existing headgear.
Features and Benefits
The ultimate in comfort and performance for CPAP therapy
Maximizes compliance by using a soft silicone cushion with frame stabilizer that redistributes pressure evenly over a large surface area
Conforms comfortably to the user's face without the need for forehead pad, allowing the user the ability to read, watch TV, and feel less confined during CPAP therapy

Product Specifications
Overall Product Height: 3"
Overall Product Length: 6"
Overall Product Width: 4"
Primary Product Color: Clear
Primary Product Material: Silicone
Warranty: NYS
Model # 100fdel-nh, 100fdem-nh, 100fdes-nh