Suction Cup Grab Bar, 12"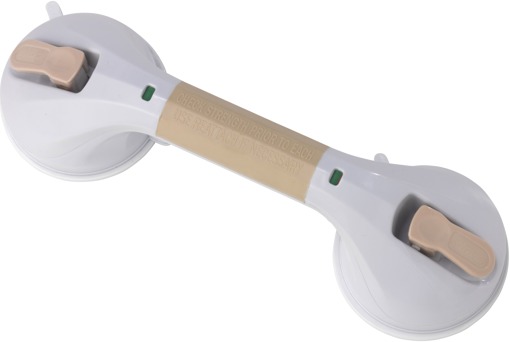 Manufacturer:
Drive Medical
Ships Direct From Manufacturer

Description:
The Drive Medical 12" Suction Cup Grab Bar offers peace of mind by providing a sturdy, versatile hand hold when maneuvering in and out of the bathtub or around the home. Featuring a premium red/green installation indicator, it is easy to determine when the grab bar is safely secured, or in need of adjustment for proper functionality. Simple to install at any angle without tools or damaging property, the large suction cups ensure a strong, dependable hold. The sleek design of the Suction Grab Bar is sure to complement any style.
Features and Benefits
Features installation verification: Green indicator means "safely secure," Red indicator means "needs adjustment"
Simple to install at any angle without tools or damaging property
Release levers make installing and removing suction cups quick and easy
Large suction cups provide an extremely strong hold; fit on 4" tiles or larger


Warranty: Limited Lifetime
Model # rtl13083, rtl13085