Automatic Deluxe Blood Pressure Monitor
This product is no longer available.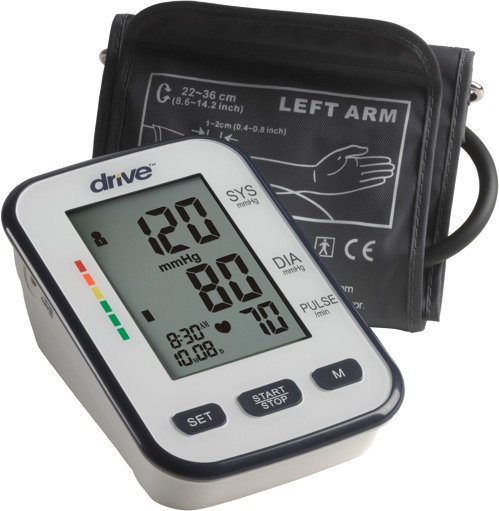 Manufacturer:
Drive Medical
This item is not currently available to order.

Description:
The lightweight Drive Medical Digital Blood Pressure Monitor unites professional accuracy with simplistic design to ensure taking daily blood pressure readings is easy and efficient. Features include an extra-large LCD display that clearly reports blood pressure reading, in addition to a sophisticated memory recall function that can store up to 120 uses of data, which is ideal for two users. The World Health Organization indicator allows you to compare your blood pressure results with the global standard, providing helpful context when evaluating results. The Digital Blood Pressure Monitor also measures pulse rate, can detect an irregular heartbeat, and preserves battery life with an auto-off function. A complimentary travel case is included for versatile daily use.
Features and Benefits
Professional accuracy with extra-large, clear display screen
Memory recall function: records 60 uses per person, 120 total
Measures pulse rate and can detect an irregular heartbeat
Auto-off battery and complimentary travel case maximize use
Compares user results to World Health Organization standard


Warranty: 2 Year Limited
Model # bp3200, bp3400