6 Cylinder Oxygen Carrier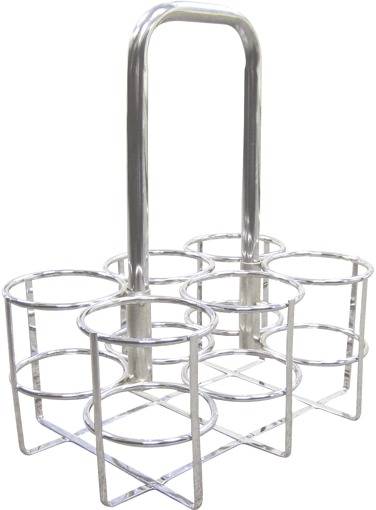 Manufacturer:
Drive Medical
Ships Direct From Manufacturer

Description:
This 6 Cylinder Oxygen Carrier from Drive Medical is a great choice when you need to store a few oxygen cylinders. Supporting cylinders of size M4,M6 or M9, this carrier is versatile and space-saving. An optimally placed handle allows easy mobility of the cylinder carrier. The carrier is available in two sizes, holding six cylinders of either size M4/M6 or size M9. This Oxygen Cylinder Carrier is designed so that it can be used in homes.
Features and Benefits
Small, compact, and lightweight
Holds six oxygen cylinders
Attractive design fit for a home
Doubles as a cylinder rack
Chrome plated finish

Product Specifications
Actual Product Weight: 3.42 lbs(18147), 5.31 lbs(18148)
Fits Cylinders: M4 and M6(18147), M9(18148)
Overall Product Height: 7.4"(18147), 11.4"(18148)
Overall Product Length: 14.4"(18147), 18.8"(18148)
Overall Product Width: 8.8"(18147), 12.4"(18148)
Primary Product Color: Chrome
Primary Product Material: Alloy Carbon Steel
Warranty: Limited Lifetime
Model # 18147, 18148